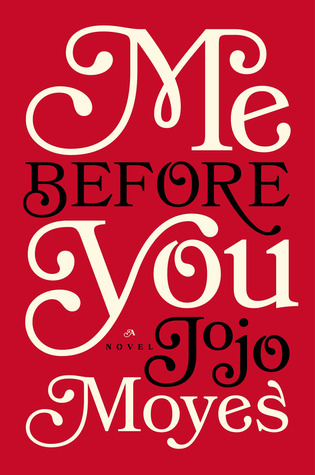 Me Before You by Jojo Moyes
Series: Me Before You #1
First published by Penguin Books in January 2012
Pages: 369
Tags: Adult, Contemporary, Romance
Buy: Amazon | Book Depository | B&N 
Rating:
Lou Clark knows lots of things. She knows how many footsteps there are between the bus stop and home. She knows she likes working in The Buttered Bun tea shop and she knows she might not love her boyfriend Patrick.

What Lou doesn't know is she's about to lose her job or that knowing what's coming is what keeps her sane.

Will Traynor knows his motorcycle accident took away his desire to live. He knows everything feels very small and rather joyless now and he knows exactly how he's going to put a stop to that.

What Will doesn't know is that Lou is about to burst into his world in a riot of colour. And neither of them knows they're going to change the other for all time

I read this as part of a read-along with Trang from @bookidote. Check out the fashion related tag for the book she created that we both answered.
This is a book I've taken on and off my tbh shelf several times. I don't know why, I've just lost interest and then gained it back again for what feels like hundred times. I finally got around to it now though, and I have to say I enjoyed it a lot more than I thought I would. 
I don't read a lot of romance, you see. It's not my thing, unless it's fanfiction. But throw in some tragedy and something other than all the lovey-dovey stuff and I'll be way more into it. And as you all probably know, this is a tearjerker, yet at the same time it's a book about hope, about finding yourself and living life to the fullest and seizing every opportunity. At the end of the day it leaves you hopeful, if a little sad.