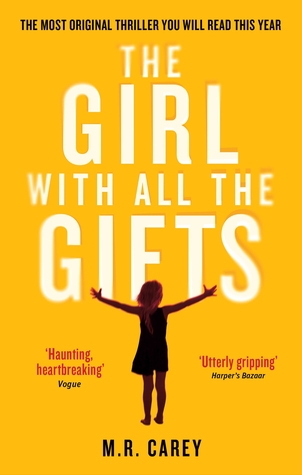 The Girl With All the Gifts by M.R. Carey
Published by Orbit in January 2014
Pages: 460
Genres: Adult, Apocalyptic, Science Fiction, Thriller 
Source: Purchased
Buy: Amazon | Book Depository | Barnes and Noble
Rating:
Melanie is a very special girl. Dr. Caldwell calls her "our little genius."

Every morning, Melanie waits in her cell to be collected for class. When they come for her, Sergeant Parks keeps his gun pointing at her while two of his people strap her into the wheelchair. She thinks they don't like her. She jokes that she won't bite, but they don't laugh.

Melanie loves school. She loves learning about spelling and sums and the world outside the classroom and the children's cells. She tells her favorite teacher all the things she'll do when she grows up. Melanie doesn't know why this makes Miss Justineau look sad.
I really don't think it's a spoiler that this is a zombie book. Like really, it's implied heavily in the synopsis, plus it's revealed very early on in the book that we're dealing with zombies here. 
So yes. Zombie children. But not regular zombies, because these children actually have brain function, which is a far cry from the other zombies roaming about outside. And we're reading to figure out why that's the case, among other things. 
I found this to be a really interesting take on the whole zombie thing, I especially liked the how and the why to the epidemic, it made a whole lot of sense. And I've actually thought of the same thing before so imagine my delight when I realized someone has actually used it in a book. I liked the 'normal' zombies too (i.e. the ones without brain function), I found their nature very intriguing and different from what I've seen previously. I hated the word "hungries" though, it sounds so juvenile. But then again, there aren't many words for zombies left that haven't been used before. I'll give it a pass even though I cringed a little every time I read it. 
I really enjoyed Melanie's relationship with her favorite teacher, the beautiful and kind Miss Justineau. Miss Justineau treats the children like people, which is a rarity. She tries to teach them things and she reads them stories from Greek mythology. It's not a secret that Melanie has a crush on her, I found that so sweet and lovely. This child would do anything for this woman and my heart can't take it. Too precious. 
"I love you, Miss Justineau. I'll be a god or a Titan for you, and save you."
The first part of this novel is absolutely amazing. Like the first 130 or so pages? Fantastic. If you're looking for a book with a gripping start definitely try this one. I hate it when books start slow but this one took you straight into the action and I couldn't stop reading. The middle part lost a little bit of oomph here and there, but I was still immersed in the plot and the characters.
I enjoyed all the character development, because pretty much every character starts out as a generic stereotype but then reveal deeper parts of themselves as we read on. I grew to really like one character that you wouldn't think you would ever like in the beginning. 
I was ready to give this book a solid 4 stars until the very last page. Holy shit, that last page gave me actual chills and I had to change my rating to a very strong 4.5. I really loved the way this ended. It was melancholic, tragic, yet beautiful and somewhat hopeful. 
I'd recommend this book to everyone, it's haunting and gripping and makes you think about what it means to be human. 
Have you read this book? Or are you going to? Tell me what you think!