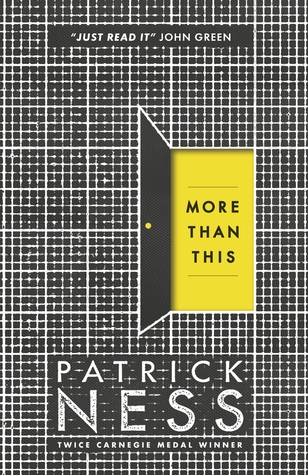 MORE THAN THIS by Patrick Ness
Published by: Candlewick Press
on September 1st 2013
Pages: 472
Genres: Young Adult, Science Fiction, Post-Apocalyptic, LGBTQIA
Buy: Amazon | Book Depository
Rating:

.
.
.
"Here is the boy, drowning."
This book starts with the main character drowning. Yep, he dies. That's not a spoiler because that's there in the very first sentence. Seth is a 16 year old boy and he drowns in the ocean. And then he wakes up, bruised and thirsty but seemingly alive. Where is he? And how did he get here? 
You shouldn't go into this book knowing anything more about it than that. I knew nothing more than that and I'd have been a bit angry if I did, because the thing that makes this book so good and so exciting is not knowing what the hell is going on. Did he actually die? And if he did, why and how is he here? Is he in hell? Heaven? Or somewhere else entirely? And why was Seth in the ocean in the first place? 
This book is so. good. I was hooked from the very beginning on both the plot and the writing. It's a survival story and I love those. It keeps you guessing. It keeps you scratching your head and asking yourself "how??" "why??" I personally love that about books, as I've previously said in my review of The Knife of Never Letting Go, also by Patrick Ness.
More Than This is split into 4 parts and while the first part might come across as slow to some, that first part was my favorite. I found it intense, engaging, and quite terrifying in its utter desolation. In the second part things changes, and you might have to reconsider your theories on what's going on. You will have to do that a lot while reading this. 
The characters in this novel are great too. It alternates between present time and flashbacks to Seth's life before, dealing with his family and friends, where we find out about a tragedy from his childhood that has shaped his entire life. Tomasz is one character that I really liked. What a cutie-patootie.
Another thing I really loved is the casual homosexuality in this book. It's very matter-of-fact, like it should be, no big deal. 
This book has a pretty open ending and while I liked how it ended I'd kill for a sequel. You'll find out why that is if you read this book, which you should. John Green says it best in the blurb: "Just read it."
Have you read this one or other Patrick Ness books? Have your read anything similar to this, because if so I want it right now.