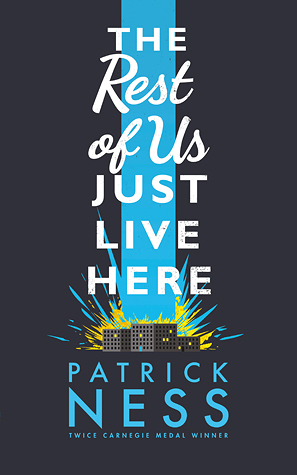 The Rest of Us Just Live Here by Patrick Ness
First published by in August 2015 by Walker Books
Tags: Young Adult, Fantasy, Contemporary
Buy: Amazon | Book Depository | B&N
Source: Library
Rating:
What if you aren't the Chosen One?

The one who's supposed to fight the zombies, or the soul-eating ghosts, or whatever the heck this new thing is, with the blue lights and the death?

What if you're like Mikey? Who just wants to graduate and go to prom and maybe finally work up the courage to ask Henna out before someone goes and blows up the high school. Again.

Because sometimes there are problems bigger than this week's end of the world, and sometimes you just have to find the extraordinary in your ordinary life.

Even if your best friend is worshipped by mountain lions.

Award-winning writer Patrick Ness's bold and irreverent novel powerfully reminds us that there are many different types of remarkable.

It's been two months since I finished this book so it's about time I write the review. Those of you who don't know anything about this book might wonder why I classified it as both fantasy and contemporary, as 'contemporary' in the blogging world tends to refer to realistic non-fantasy books. Well, this book is set in a world where fantasy stuff goes down, but the book still reads largely like a contemporary because it focuses on regular people (mostly) and their every-day lives. It's about those people in the background, who watch the chosen ones with weird names run around fighting vampires and zombies and blow up the school on prom night. Yeah, you know those people, we've all seen those shows and read those books. 
But what about the people in the background? What are they doing while all this is happening? And how do they deal with the consequences of the chosen peoples' drama? Well, they just live there, and this time we're pulling the background into the foreground and putting all the special kids (called "indie kids" in the book) in the backdrop. They go about their daily lives and their own personal battles. Everyone's a hero in some way.