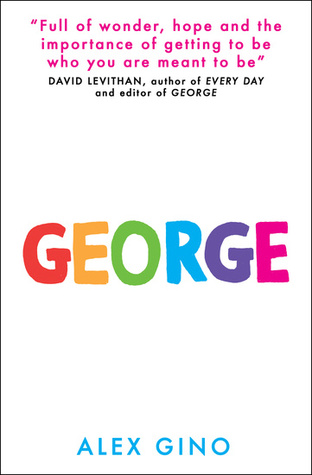 Title: George
Author: Alex Gino
First published in August 2015
Tags: Middle Grade, Contemporary, LGBTQIA (T)
Source: Storytel (audiobook app)
Rating:
"When people look at George, they think they see a boy. But she knows she's not a boy. She knows she's a girl.

George thinks she'll have to keep this a secret forever. Then her (4th grade) teacher announces their class play is going to be "Charlotte's Web." George really, really, REALLY wants to play Charlotte. But the teacher says she can't even try out for the part …because she's a boy.

With the help of her best friend, Kelly, George comes up with a plan. Not just so she can be Charlotte – but so everyone can know who she is, once and for all."

---
"Mom, what if I'm a girl?"
A mini-review for a mini-book. It's short and sweet and definitely worth picking up because oh my god, this book is so lovely. I adored it to pieces. I listened to it on audio, and it was such a pleasant experience. 
This book is about ten year old George who's dying to play Charlotte in the school's production of Charlotte's Web. The only problem is that while George knows she's a girl, everyone else sees her as a boy so the teacher won't even let her audition. George just wants people, including her mother, to see that she's actually Melissa. And that she'd be a great Charlotte. 
What I loved about this story is that George knows from the start who she is and what it's called. She knows she's trans because she's looked it up, and views herself as such. I feel like this is such an important child's POV and it's important for other children to read (or just people in general). Ten year old children can and do know who they are and you have to listen to them. 
Sidenote, I've never read Charlotte's Web and I had no idea what it's about except there's a spider in it and someone named Charlotte, I assumed it was a child. Not until this book did I realize Charlotte is the spider. Mind blown. 
Anyway. This is such an uplifting and positive story and should be a mandatory read for all children. There are still hard moments that make it realistic; my heart broke for George several times, but in the end it's a story that makes you feel warm and happy inside. 
I also have to add that this is a great book about friendship. George has an amazing best friend who does everything in her power to make George feel good about herself. I think this was my favorite part of the book. I love how effortlessly accepting children often tend to be. 
I loved this so much. Read it. 
---