I haven't done a TTT in ages! These lists tend to get repetitive if you do too many of them but I really wanted to do this one.
Top Ten Tuesday is a weekly meme created and hosted by The Broke and the Bookish.  Today's theme is a "Ten Books I Loved Less/More Than I Thought I Would (recently or all time)". I decided to go with books I enjoyed more, as I've talked a lot about disappointing books lately, haha. 
---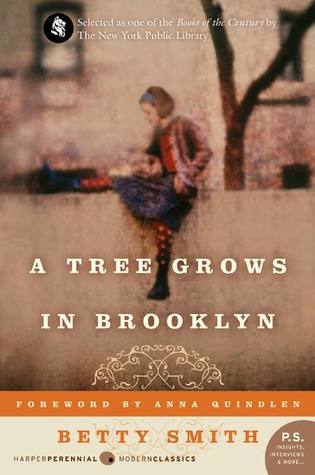 I only picked this up because of work, I didn't think it would end up being my kind of book, but it was so so good. This is a modern classic about a girl growing up in Brooklyn and it's just stunning, the characters really got to me. I ended up giving it five stars. 
---

I didn't expect to like this one so much because while I liked Carrie I wasn't in love with it, and everyone keeps saying they like the movie version better. Well, this book is so much better than its movie, trust me. I ended up devouring all  600-something pages. It has some really creepy moments, but what I liked the most was the character explorations and just the overall setting.

Has anyone read Doctor Sleep? Even though I loved The Shining I'm not sure if I want to read that one. 
4 stars. 
---
Okay, I keep saying this but whatever. This book took me by complete surprise, I was sure I was getting into just another YA romance with a lil' fantasy on the side, and that it would be like eh alright, BUT NO. No sir. Instead I was smacked in the face with an amazing plot, superb characters, friendship to die for, and only a mere hint of romance. I've read the first two books now and I can't wait to read the last two. 
If you've ever been on the fence about The Raven Boys because it looks and seems kind of cheesy you better get off that fence and go read it. 
5(00) stars. 
---

I've always been skeptical to this as a concept. Not only were the excerpts in Fangirl boring and skipable, but I felt it was too much like Harry Potter to deserve to be its own book. I went into this book cringing a little, because it does have a lot of Harry Potter-isms, and they're very obvious in the beginning. But then it kind of started doing its own thing, and I was compelled. Mostly I was compelled by Simon and Baz and their road from enemies to romance, but I was actually into the plot as well and I thought it got quite clever at the end.  And you gotta love that self-indulgent prologue, you can tell the author has a background in fanfic because of it because we see those after every longfic and I'm not mad at it. 
I don't know, I liked it a lot.  
4 stars. 
---
It's been almost two years since I read this book so I don't know how I'd feel about it today, but back then I finished it in one sitting. It was interesting and compelling, and sure, maybe not the best objectively, but subjectively I enjoyed it a hell of a lot. It was super charming and even had some good spooky moments.  
5 stars. 
---
What book surprised you recently? In a good or bad way. 
Follow me on Twitter | Goodreads | Bloglovin' | Instagram |