Alrighty! This right here is one of my favorite tags, I absolutely love reading/watching people share their unpopular opinions on books.
I did this tag once before, back when I was first starting my blog in 2015. Obviously I've read a lot more since then and I wanted to do it again and update it. I won't mention any of the books I did before to avoid being repetitive, but please do go back and read my other post as well if you're into this sort of thing. 
This tag was originally created by TheBookArcher. 
A popular book series that you didn't like 
*cough* A Darker Shade of Magic *cough* Literally everyone and their mother and grandmother loves this. Five stars everywhere. And I just… fell asleep. It wasn't for me. Also Shatter Me, even though that one has its fair shares of low ratings so I'm not as alone here. That book is terrible and I'm glad I only spent like a dollar on it. Throne of Glass is pretty awful as well, at least the first book. I haven't continued the series. I think I will eventually, just to see if it gets better.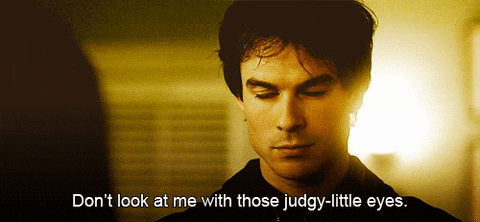 A popular book or series that everyone else seem to hate but you love
I can't think of anything for this one this time around. Maybe Carry On? It's not a widely hated book or anything but I've seen it on quite a few "least favorites of the year" lists. I thought it was pretty good and I really enjoyed it, but I had super low expectations for it so that might be why. I just love Simon and Baz ok.
.
.
.
A love triangle where the main character ended up with the person you did NOT want them to end up with OR an popular pairing that you don't like
Eeek, I can't think of anything! I haven't finished any series in the past year that had a love triangle and I can't think of a popular pairing that I have an active dislike for. I mean, I didn't like Celeana and Chaol in Throne of Glass, but I've only read that one book. 
Can we talk about Clarke/Bellamy (The 100) for a second though… Hatred burns in my veins for this ship. I'm all for their friendship, but any romance needs to stay far away from me. I haven't read the books, but the show irks me enough.
 A popular book genre that you hardly reach for
Hetero romance in that Anna and the French Kiss kind of style where the main focus is the romance and that's the plot. There's nothing wrong with it, it's just not my cup of tea. That's not to say I never enjoy het romances, for instance I loved Eleanor & Park, but that's because it had really angsty elements thrown in there and the characters were a bit outside the norm. 
A popular or beloved character that you do not like
Basically everyone in Throne of Glass and Shatter Me.
A popular author that you can't seem to get into
I'm starting to suspect this might be V.E. Schwab and it just hurts my very soul to say that because Vicious is my all-time favorite book only after Harry Potter, but I haven't been into anything else I've read by her yet. I really hope the sequel to Vicious will be good. Please, for the love of all that is holy.
A popular book trope that you're tired of seeing
"Everything is falling apart and we could die at any moment but there are these two hot guys who like me and I'm so confused cause I kinda like both waaaaah"
Give me more "nontraditional" love triangles or conflicts, like Lada – Mehmed – Radu in And I Darken.
A popular series that you have no interest in reading
Where to begin honestly. Truthwitch is the one that popped into my head first. It always seemed pretty bad to me, plus I've heard it's so slow and makes no sense. I've really never been at all interested in this series ever since people started hyping it up before it was out. Then there's Passenger, The Girl From Everywhere, and Rebel of the Sands.  I don't know, all of these give me the impression that they'll be slow and bore me. I've also seen lots of less than favorable reviews by people I trust. Then there's The Selection, which I think just missed me. I feel like I'd probably have enjoyed it (maybe?) when I was younger. It's too late now. It's the same with Red Queen, I might have enjoyed it when I was younger. I've heard it's a bit too much like many other series out there. 
I don't think I can ever be persuaded to pick any of these up, especially Truthwitch. I'd love to know your opinions on these books though, positive and negative!
Why are all these covers blue?? hahaha. I swear I don't have anything against blue. Or do I…
The saying goes "The book is always better than the movie", but what movie or TV show adaptation do you prefer over the book?
I haven't watched that many movie adaptations of books this past year. Can I mention the ones I'd probably like more than the book if I watched them? Miss Peregrine's Home For Peculiar Children. Disliked the book a lot, but the movie might be alright? Harry Potter and the Cursed Child is obviously way better on stage as that's what it's written for. Even though even that can't disguise bad plot choices and weird characterization…
Wanna know what movie is definitely NOT better than the book though? This is also an unpopular opinion actually. The Shining by Stephen King. I loved the book, I read it for the first time last summer, and then I watched the movie (also for the first time). And I just. don't. get it. Why do so many people say this is the greatest (horror) movie of all time? It's shit. Excuse my French but honestly, it's awful. I couldn't stand it or take it seriously for one second. Why is it still called "The Shining" WHEN THEY DON'T MENTION THE SHINING FOR MORE THAN TWO SECONDS. WHAT. WHAT. THE SHINING, WHICH IS LIKE THE ENTIRE PLOT POINT, IS NOT EXPLORED AT ALL. At least the Norwegian movie title is "The Hotel of Evil" so there's no false advertising. I'm so angry because that movie was horrible and one of the worst I've watched in my life. Terrible characterization as well. I bet Stephen King hates it, I haven't done any research to see if he does, but he must. The book is great and I really recommend it, but I want to forget I ever watched the movie. If you like this movie that's fine, obviously, but you can't convince me to like it. 
Wow, that was a rant. Sorry not sorry. 
---
If you want to do this too, consider yourself tagged by me! 
I hope you don't hate me now. You can comfort yourself with the fact that you probably hate a lot of the books I love. 

Now I really want to know some of your unpopular opinions. What's a series or book you absolutely hate and/or won't ever read for whatever reason? Do you love any of the books I mentioned? If so, awesome! Let's talk about it. 
Follow me on Twitter | Goodreads | Bloglovin' | Instagram | 
Watercolor background designed by Freepik