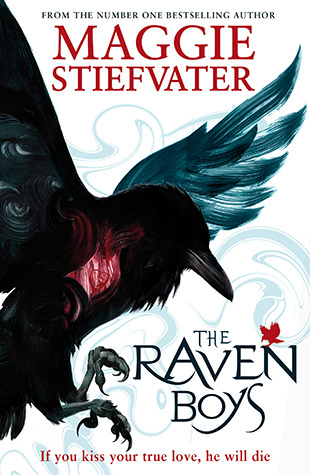 The Raven Boys by Maggie Stiefvater
Series: The Raven Cycle #1
First published in September 2012 by Scholastic Press
Tags: Young Adult, Fantasy
Buy: Amazon | Book Depository | B&N 
Source: Purchased
Rating:
"There are only two reasons a non-seer would see a spirit on St. Mark's Eve," Neeve said. "Either you're his true love . . . or you killed him."

It is freezing in the churchyard, even before the dead arrive.

Every year, Blue Sargent stands next to her clairvoyant mother as the soon-to-be dead walk past. Blue herself never sees them—not until this year, when a boy emerges from the dark and speaks directly to her.

His name is Gansey, and Blue soon discovers that he is a rich student at Aglionby, the local private school. Blue has a policy of staying away from Aglionby boys. Known as Raven Boys, they can only mean trouble.

But Blue is drawn to Gansey, in a way she can't entirely explain. He has it all—family money, good looks, devoted friends—but he's looking for much more than that. He is on a quest that has encompassed three other Raven Boys: Adam, the scholarship student who resents all the privilege around him; Ronan, the fierce soul who ranges from anger to despair; and Noah, the taciturn watcher of the four, who notices many things but says very little.

For as long as she can remember, Blue has been warned that she will cause her true love to die. She never thought this would be a problem. But now, as her life becomes caught up in the strange and sinister world of the Raven Boys, she's not so sure anymore.

From Maggie Stiefvater, the bestselling and acclaimed author of the Shiver trilogy and The Scorpio Races, comes a spellbinding new series where the inevitability of death and the nature of love lead us to a place we've never been before.

I've gushed about this book a lot on this blog already, but it deserves a proper review as well so I'll try to do this coherently. 
I've always been skeptical to this series, despite knowing how many people love it. First off, the covers look cheesy and the synopsis on the back of the book is even cheesier. The tagline needs to go. Combined, it all makes the book sound like your regular, dramatic YA romance. "Female character can't kiss her true love or he will die." Yawn. Well, THAT'S NOT EVEN WHAT THIS BOOK IS ABOUT. Even the synopsis from Goodreads focuses mostly on that, and it doesn't do the book justice at all. At most, the true love's death kiss is more on an overarching mystery that always looms in the background. Who is Blue's true love? Is it actually Gansey? We've already seen he will (probably??) die, as Blue saw him as a spirit on St. Mark's Eve, but how will he die? Why? 
Before reading the book I thought Blue was like Juliette in Shatter Me, that there was something physical about her that made her kiss lethal, but it's not like that. Thank god. It's not a power/curse she has. I think this is important to point out, because it's way less cheesy this way. 
Frankly I had a theory that, since there was an EpiPen in Gansey's car, he would die because Blue had nuts before she kissed him. LOL. But I think it was actually bees he was allergic to, right? It's been a while since I read it so details are fuzzy, but who knows, he could be allergic to nuts as well. 
I'M SO EXCITED TO FIND OUT WHAT'S GOING TO HAPPEN, I HAVE SO MANY THEORIES I CAN'T LIST THEM ALL.
The actual plot is something else. It's fresh and new, not something you find in every other YA fantasy out there. It's really complex, you've got to commit yourself to it or you might get confused if you've suddenly skimmed something. One thing's for certain though, you won't have read another book like this. It's actually a bit hard to explain, and I always have trouble explaining it when I recommend it at work (I work in a bookstore). But okay, if I were to explain the plot I'd have to start with Blue, who her entire life has been told by clairvoyants that when she kisses her true love, he will die. Okay, we've been over this. One night a year, they (Blue and her clairvoyant family) go to the cemetery to watch the spirits of people who will die in 12 months. Blue has never been able to see them, because she's not psychic, but this year she sees the spirit of a boy her age and he tells her his name is Gansey. 
Now, the only reason Blue would be able to see a spirit is if the person was her true love, or if she killed them. 
Dundundunn. Gansey, then, could be both. Is he? 
But this is when we get into the other stuff. The part that makes this book unique, because when Blue meets the Raven Boys, things get complicated. Gansey is an old soul (literally??? I have another theory that he literally is) who talks like an old man and who is also obsessed with finding this old Welsh king called Glendower, who's rumored to be sleeping. There's a very interesting reason as to why he's obsessed with finding this old king, but I won't spoil it here. He has recruited his friends, Adam, Ronan, Noah, to help him. Blue is fascinated and intrigued, and joins their quest. 
Now, cue magic forests. Trees that speak Latin. Visions. Ghosts. 
In the end, the plot is so hard to explain accurately that I mostly end up emphasizing how well-written all the characters are, because they're written fantastically. Everyone feels real and the friendships are wonderful and intricate. I really enjoy reading about strong friendships between teenage boys, as well as between girls and boys. 
My spider senses are also giving me Adam/Ronan vibes, for some reason. Obviously don't tell me if I'm right or not because I want to find out for myself, but I really really hope. I get non-straight vibes from Ronan at the very least. That would be amazing. 
Also, bless Ronan and his pet baby raven called… Chainsaw. 
Overall, this book is magical and real at the same time. It deals with both the magic quest and serious real life issues like abuse and grief. Plus, the writing itself is stunning. It's not written like your average YA novel. I can't emphasis how good the writing is enough. 
I know some people have said it's a bit slow, especially in the beginning, but the beginning was my favorite part and I had no complaints. Maybe it's slow, but it's slow in a delicious way that's just right for this book. It's so well-written that I honestly didn't notice. The language and the characters are so beautiful that it could've probably been 200 pages longer and I wouldn't mind. 
The next book I'm going to read is probably going to be The Dream Thieves because I need to finish this series ASAP. 
In short, if you haven't read The Raven Boys because you think it sounds cheesy and clichè, forget all about it and read it anyway. You (probably) won't be sorry. 
---
Have you read The Raven Boys? What did you think of it compared to what you thought it would be like?