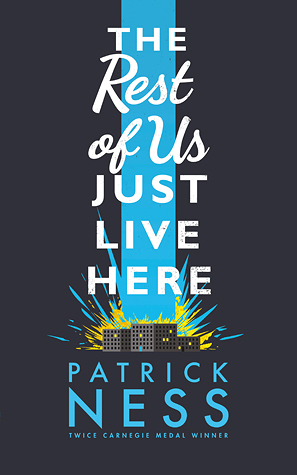 The Rest of Us Just Live Here by Patrick Ness
First published by in August 2015 by Walker Books
Tags: Young Adult, Fantasy, Contemporary
Buy: Amazon | Book Depository | B&N
Source: Library
Rating:
What if you aren't the Chosen One?

The one who's supposed to fight the zombies, or the soul-eating ghosts, or whatever the heck this new thing is, with the blue lights and the death?

What if you're like Mikey? Who just wants to graduate and go to prom and maybe finally work up the courage to ask Henna out before someone goes and blows up the high school. Again.

Because sometimes there are problems bigger than this week's end of the world, and sometimes you just have to find the extraordinary in your ordinary life.

Even if your best friend is worshipped by mountain lions.

Award-winning writer Patrick Ness's bold and irreverent novel powerfully reminds us that there are many different types of remarkable.

It's been two months since I finished this book so it's about time I write the review. Those of you who don't know anything about this book might wonder why I classified it as both fantasy and contemporary, as 'contemporary' in the blogging world tends to refer to realistic non-fantasy books. Well, this book is set in a world where fantasy stuff goes down, but the book still reads largely like a contemporary because it focuses on regular people (mostly) and their every-day lives. It's about those people in the background, who watch the chosen ones with weird names run around fighting vampires and zombies and blow up the school on prom night. Yeah, you know those people, we've all seen those shows and read those books. 
But what about the people in the background? What are they doing while all this is happening? And how do they deal with the consequences of the chosen peoples' drama? Well, they just live there, and this time we're pulling the background into the foreground and putting all the special kids (called "indie kids" in the book) in the backdrop. They go about their daily lives and their own personal battles. Everyone's a hero in some way. 
"Because sometimes there are problems bigger than this week's end of the world and sometimes you just have to find the extraordinary in your ordinary life."
I enjoyed all the characters, that's what really made this story for me. Patrick Ness always creates great characters, he hasn't disappointed me on that front yet. All the characters have their own issues that they deal with, be it OCD, unrequited love, eating disorders, or having cats follow them everywhere for some reason… Okay, so the last one seems like the opposite of a problem, but not to Jared. 
I really loved the depiction of Mikey's (the narrator) anxiety and OCD. It felt real and suffocating, and I absolutely adored how Jared, his best friend, tried to save him from himself when it was happening. Their friendship made me feel all the things. 
I also have to add that the concert part, the part where Mikey and Mel take their little sister to see her favorite boy band Bolts of Fire (very One Direction style), was probably my favorite part of the book (apart from the Mikey and Jared moments) because of how spot-on it was. Ever been to a concert like that, filled to the brim of hysterical teenage girls? It's the most accurate thing I've ever read and I loved it. 
When it comes to the fantasy elements, we get to see a little something from what is happening there in the start of every chapter. There's a little summary telling us what the indie kids are up to and who's fighting who, who's in a love triangle with who, and who ended up dead. This entire book is like a parody of all these popular fantasy and sci-fi shows and books we see everywhere today and it's hilarious. This book will be especially funny for those of you who read/watch these genres because you'll pick up on the little "jabs". 
"Now you're sure we are not going to be murdered?" Call Me Steve says, actually looking a bit nervous. "Prom night. Group of diverse teens. Remote cabin…"
The indie kids' names also cracked me up, like Satchel, who was kind of the Elena Gilbert of the indie kids. Also, is it a thing in YA fantasy that there are a lot of people called Finn??? I don't think I've ever noticed, but this book made a point of having several indie kids called Finn LOL. The only Finn I can think of is Finn from The 100. And Glee, but that's not fantasy or sci-fi. Hmm. Is it considered a hipster name maybe? 
Anyway. This book is also really easy to read, which is a plus. I plowed through it in pretty much one sitting. I like More Than This by the same author a lot… more than this… but this is still a solid book that's plenty original. I feel like this book will fit best those who enjoy both fantasy and contemporary, that way they won't be bored or "want more" from the plot and they'll also understand the fantasy trope references and get a kick out of it. 
Have you read this book? Tell me what you think!