It's Thursday and time for another Book Traveling Thursday. This weekly meme was created by Cátia @ The Girl Who Read Too Much and Danielle @ Danielle's Book Blog. Visit their Goodreads group to learn more about Book Traveling Thursday 🙂
The rules are to share covers related to the weekly theme where you include the original cover, the cover from your country, your favorite, and your least favorite. I've decided to go for a top 3 and bottom 3 arrangement, because that's more fun and I get to showcase more covers. 
---
This week's theme is "a book that makes you laugh." I'm going with a Norwegian book, Den Sommeren Pappa Ble Homo (The summer dad turned gay) by Endre Lund Eriksen. It's probably the funniest book I've ever read. Or heard, since I listened to it on audio. It's about 12 year old Arvid and his dad, who are on summer holiday in their caravan. In a house next door lives 12 year old Indiane (who may or may not be interested in Arvid, which is awkward) and her dad, who's gay and spends a suspicious amount of time with Arvid's dad… which is even more awkward.
The audiobook is read by the author, in his own dialect, and I think that really makes the humor in this book. I'm not sure I would find is as funny in written form, but who knows.
This book only has four different covers to choose from, so I won't be able to do my usual top and bottom 3 😦
ORIGINAL COVER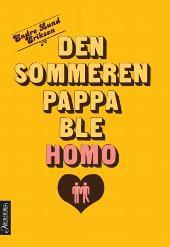 This cover is very retro looking, I think it's the font. I don't mind it. Also, someone tell Goodreads that the synopsis on the Norwegian edition of this book is in French lmao.
COVER(S) FROM NORWAY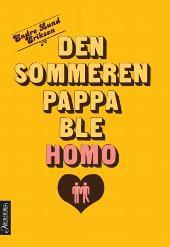 FAVORITE COVER

This Danish one. I don't know, I just think it's hilarious and it brings in all the important elements from the book. It looks silly, but the book is kind of silly so it fits. I love all the colors. 
LEAST FAVORITE COVER
Is it just me or do the Germans do these kinds of covers a lot? It's not that bad, but it looks too serious and melodramatic. It needs more humor.

What do you think of these covers? What's your favorite funny book?
Follow me on Twitter | Goodreads | Bloglovin' | Instagram | 
Globe vector by Freepik
Book vector by Freepik