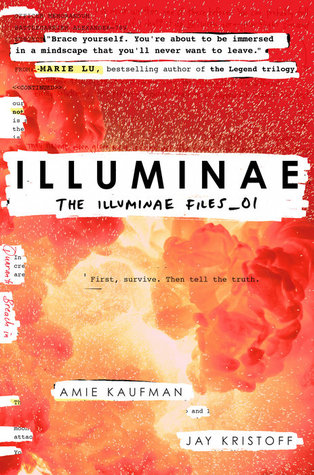 Illuminae by Amie Kaufman & Jay Kristoff
Series: The Illuminae Files #1
Published by Random House in October 2015
Pages: 599
Tags: Young Adult, Dystopia, Science Fiction, Thriller
Source: Purchased
Buy: Amazon | Book Depository | B&N 
Rating:
This morning, Kady thought breaking up with Ezra was the hardest thing she'd have to do.

This afternoon, her planet was invaded.

The year is 2575, and two rival megacorporations are at war over a planet that's little more than an ice-covered speck at the edge of the universe. Too bad nobody thought to warn the people living on it. With enemy fire raining down on them, Kady and Ezra—who are barely even talking to each other—are forced to fight their way onto an evacuating fleet, with an enemy warship in hot pursuit.

But their problems are just getting started. A deadly plague has broken out and is mutating, with terrifying results; the fleet's AI, which should be protecting them, may actually be their enemy; and nobody in charge will say what's really going on. As Kady hacks into a tangled web of data to find the truth, it's clear only one person can help her bring it all to light: the ex-boyfriend she swore she'd never speak to again.

Told through a fascinating dossier of hacked documents—including emails, schematics, military files, IMs, medical reports, interviews, and more—Illuminae is the first book in a heart-stopping, high-octane trilogy about lives interrupted, the price of truth, and the courage of everyday heroes.
The spoilers in this review have been hidden, so you can safely read without being spoiled, if you so wish.
This book is hard for me to review, because I can't really figure out what it is that made this book not get five stars from me, and instead 3.5. Maybe I'll figure it out as I write. Let's see… 
I really love books written in alternative formats, with pieced together information found-footage style. I love it and if you know more books like that then please let me know. Illuminae, as you all probably know, is a dossier consisting of interviews, chat logs, emails, reports, wikipedia articles, etc., about the Kerenza disaster (the main character's planet). At times you have to turn the book upside down to read, which is another thing I enjoy (House of Leaves anyone? Oh boy.)
Because of the format, naturally you don't get as close to the main characters, Kady and Ezra, the way you would if they had been narrating the story. We never get to know what they're thinking, just what they're saying. We have no narrators here, except the odd crew member who tells us what's going on on the surveillance cameras and, of course, AIDAN the AI. The AI is fantastic, I enjoyed reading from its perspective and I got quite emotionally attached to it. I hope it continues to play a part later in the series, maybe it'll get a body like EDI in Mass Effect lol.
It's also really creepy at times. "Don't look at me" is totally the new "are you my mummy?"
A lot of people say the reason Illuminae didn't connect with them was because of the format, because it didn't allow them to get to know, and thus get attached, to the characters. It wasn't like that for me though. In fact, I found myself getting really attached to them through their chat logs and emails, it worked for me. In particular Ezra's friend McNulty. He was a lot of fun. I genuinely haven't been this emotional over a character death in a book since The Knife of Never Letting Go. The "he'd have made a good dad" part broke me.
And I have to add that I really liked the fact that Ezra and Kady already know each other, their relationship is already established and we actually start the book learning they've broken up. When reading a book like this I really need all this whole "boy meets girl, they fall in love" story that takes over the entire thing. I like established couples. More of that in sci-fi and fantasy, please.
So basically, I liked the format. I liked the characters. And I liked the plot. So why the hell can't I give it five stars? I think it's because while the plot was good, it didn't really keep me wanting to turn pages until the last third of the book. And this book is 600 pages, so that's about 400 pages of me wishing I'd get more captivated. I didn't hate those first 400 pages, I found the chat logs amusing and certain parts heartbreaking, but things really didn't start hitting the fan for me until AIDAN (the AI) revealed the twist.
AND WHAT A TWIST. I loved it. It broke my heart into a thousand pieces but I loved it. I thought it was unusually dark and twisted for YA, and I'm all about that life. But then came the ending… And while it was cute and it made me smile, the dark and twisty part of me wanted Ezra to be dead. I assume AIDAN wasn't lying about pretending to be Ezra though, so at least that's still really creepy. I'm torn on how it all ended, but I'll be reading the second book in the series.
Oh yeah, I also found that the surveillance footage summaries didn't really work for me, even though they provide necessary information about what the characters are doing when they're not chatting. They just weren't engaging enough. Maybe they just seemed to drag because they're the only pieces of conventional text through this whole book? I don't know.
I'm also questioning some of the slang/teenspeak in this book. It's 500 years into the future and kids still say "lol"? Hmm. You'd think they had something new to say by now, teenspeak changes sooo rapidly. It might date the book really fast. There were some new language quirks though, like "fem" instead of "chick." Unless this is something people already use and I'm just not paying attention, lmao.
However, this book has:
Space war!
Zombie virus!
Characters with humor!
A couple to root for!
A rogue AI!
Some really beautiful pages!
So the "low" rating (3.5 is still good) is simply because I personally found it a bit slow during the first half. A lot of people disagree though, so I'd definitely recommend this book if you think it sounds interesting.
 Don't look at me. Don't look at me. Don't look at me. Don't look at me. Don't look at me. Don't look at me. Don't look at me don'tlookatme don'tlookatmedon'tlookatmedon'tlookatmedon'tlookatmedon'tlookatmedon'tlookatmedon'tlookatmedon'tlookatme
I read this book as a part of the 2016 Dystopia Reading Challenge.
Have you read Illuminae? What did you think? Did the format make you feel detached from the characters and the narrative or did it pull you in?