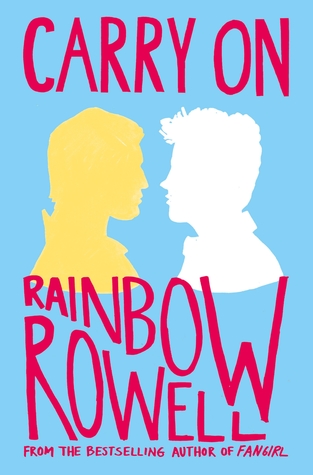 Carry On by Rainbow Rowell
Published by Pan Macmillan in February 2016 (first pub. October 2015)
Pages: 528
Genres: Young Adult, Fantasy, Paranormal, LGBTQIA
Source: NetGalley
Buy: Amazon | Book Depository | Barnes and Noble
Rating:
Simon Snow is the worst Chosen One who's ever been chosen.

That's what his roommate, Baz, says. And Baz might be evil and a vampire and a complete git, but he's probably right.

Half the time, Simon can't even make his wand work, and the other half, he starts something on fire. His mentor's avoiding him, his girlfriend broke up with him, and there's a magic-eating monster running around, wearing Simon's face. Baz would be having a field day with all this, if he were here — it's their last year at the Watford School of Magicks, and Simon's infuriating nemesis didn't even bother to show up.

Carry On – The Rise and Fall of Simon Snow is a ghost story, a love story and a mystery. It has just as much kissing and talking as you'd expect from a Rainbow Rowell story – but far, far more monsters.
I received a free ebook copy from the publisher via NetGalley in exchange for an honest review.
I hadn't originally planned on reading this, both because I didn't like Fangirl and because it seemed too similar to Harry Potter and that bugged me. But then I saw this as a "read now" book on NetGalley and I couldn't resist that. 
And what do you know, I actually enjoyed it. It starts off very similar to Harry Potter, that it does. For those who don't know, the story of Simon Snow started in Fangirl as the main character's fanfiction. And in that universe, Simon Snow is like their Harry Potter, it's an eight book fantasy series with a huge fandom about a magic school and a Chosen One. And then this book, Carry On, isn't Cath's fanfic, but it's still the characters and story Rowell invented in Fangirl. Though in Fangirl, all the fic excerpts were terribly boring and this is a lot better. Are you with me? Alright. 
So yes, it starts off with a lot of Harry Potter-isms. There's an orphan boy who goes to a magical school. People whisper about it being a school for unruly or criminal kids. He's the Chosen One, but's not really feeling it. There's a prophecy that says he's the most powerful mage there is and he's been chosen to save the magical world and defeat the Big Bad. He has a really clever friend named Penelope, who would remind anyone of Hermione. He has a rich asshole ~nemesis~ that he's obsessed with ala Harry and Draco in The Half-Blood Prince. The nemesis lives in a mansion. The headmaster is Simon's mentor. 
But most of these elements are pretty basic. There are lots of stories about Chosen Ones and magical schools. Yes, the similarities are many, because after all Harry Potter is the inspiration, but as far as the plot goes it's not Harry Potter. I stopped reading it as Harry/Draco fanfiction in not too long. 
What is the plot then? Well, there are two basic storylines at work here. Or three, if you include the love story. 1) Help Baz find out what happened to his mother 2) Stop the Humdrum (Big Bad) from stealing magic and destroying the magical magickal world.
During the first 75% or so of the book, I was mostly just interested in Simon and Baz's relationship. And I was just thinking god, that's typical, the one time I'm more interested in the romance than the plot the book actually focuses on the plot! LOL. And it does, that surprised me a little. I was sure the focus would be on the romance. Because Rainbow Rowell. I still enjoyed it though, even though the plot and the mysteries didn't really interest me all that much until it started picking up at the end. Like I said, I was reading like 
Baz is just too precious. Bless. 
That one scene where they hold hands and experiment with Simon's power gave me life. Same with the scene during Baz's breakdown. 
"I was eleven years old, and I'd lost my mother, and my soul, and the Crucible gave me you."
So, romance: super cute and definitely for you if you like the enemies to lovers trope. Plot: Started out mediocre but ending up interesting. Ending: satisfying and surprising. You had to think a little, which I always like. And there was a lot of irony, which is great too. And bless Rainbow Rowell for that epilogue. I can tell she comes from the world of fanfiction because she knows what the people want. 
Now to what really bugged me. The multiple POVs. It drove me mad, it was so annoying. Who thinks it's a good idea to write multiple POVs in first person? It's confusing to the reader and pulls them out of the story because they have to remind themselves who's narrating all the time. It's like the author forced herself to write all these POVs to make it more ~fantasy~. But if that was the idea then oh god why wasn't it in third person, why are you doing this to me???
If you've read Eleanor & Park you know this narrative style. Alernating chapters that "speed up" when something dramatic happens, like a kiss. The speeding up works for me, because then the sections are so short it's not possible to forget who's speaking, but other than that, no. Most of the POVs were completely useless too and added nothing that couldn't have been added another way. The Mage's first chapters: boring and unnecessary. Penelope's chapters: all unnecessary. Agatha: all unnecessary except maybe one towards the end. Nicodemus: SO UNNECESSARY. I could have done with just Simon, Baz, and Lucy. Lucy provided necessary backstory. But I still needed it to be third person, because after four chapters of Simon my brain is so used to him that it automatically wants to read everything as Simon and then suddenly it's like "I look at Simon" and I just… wait what who's this. Adjustments necessary. 
Tell me why, when we're in a room with Simon and Penelope, the chapter is from Penelope's POV all of a sudden. Why? She's adding nothing of value and this makes it even harder to remember who's talking. She's literally in the room with Simon, talking to him. Simon could narrate this. She's not off doing something without Simon that adds to the plot and that makes us remember who she is because of the location.
I also found it unnecessary when we followed Penelope and Agatha home for Christmas. Why did we do that? There was a mention of the Bechdel test in those chapters and it made me wonder if they were added for that purpose? Lord have mercy. I'm all for passing the Bechdel test but don't bore me in the process. 
Don't get me wrong, I like both Penelope and Agatha. Once again, I would have been able to deal with all of this if IT WAS IN THIRD PERSON.
It also becomes painfully obvious sometimes that Carry On is the last book in a series, so to speak. A series that doesn't exist, because it's fictional. A lot of things that happen in this book would have made more of an impact if it had been an actual series. The character of the Mage for example, he could have used a few more books to really build him up as a character. He's been like a parent/mentor thing to Simon, but you don't really feel that in the book, it's just told to you. Then the Mage is also the enemy of the Pitch family, but that's also just told to you. Maybe a trilogy could have done this book some good, maybe even just a duology. 
Okay, that seemed like a lot of complaints, but in the end I really did enjoy this book. I sped through it and felt a lot of warm and fuzzy feelings. Mostly I enjoyed it because of the characters of Simon and Baz and their relationship, as well as the plot developments towards the end. It really was a lot better than I expected. 
That got a lot longer than planned, whoops. Have you read Carry On? What did you think? Did you like it more or less than Fangirl?