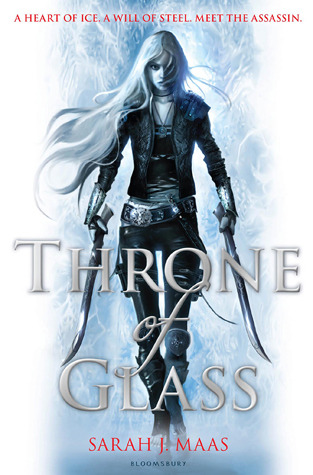 Throne of Glass by Sarah J. Maas
Published by Bloomsbury in 2012
Pages: 404
Genres: Young Adult, Fantasy, Romance
Source: Purchased
Buy: Amazon | Book Depository | Barnes and Noble
Rating:
Meet Celaena Sardothien.
Beautiful. Deadly.
Destined for greatness.

In the dark, filthy salt mines of Endovier, an eighteen-year-old girl is serving a life sentence. She is a trained assassin, the best of her kind, but she made a fatal mistake: she got caught.

Young Captain Westfall offers her a deal: her freedom in return for one huge sacrifice. Celaena must represent the prince in a to-the-death tournament—fighting the most gifted thieves and assassins in the land. Live or die, Celaena will be free. Win or lose, she is about to discover her true destiny. But will her assassin's heart be melted?
I read this book as a read-along with Trang, Lora Shouse and Luke Taylor. It was a lot of fun, I love discussing a book as I read it and I've had this on my tbr for ages. 
I have a lot of thoughts on this book. I'm not sure I'll remember to mention everything but I'll try. 
If you read my discussion post (link above) you already know that I knew what to expect when I started reading the book. For instance I knew it focused more on romance than action. So I didn't go into this with very high expectations and that way I didn't end up being disappointed even if I only ended up giving it two stars. I wish it was better, but it's exactly what I thought it'd be. Let me explain. 
Okay, so my main problem is the imbalance between the romance and the action/world-building. I knew this when I started, but it still bothered me. According to the synopsis, this book is about a dangerous tournament. And sure, the tournament runs through the entire book, but it's more like background noise. The foreground noise is Chaol and Dorian and Celaena, throwing longing looks at each other and talking about how pretty they find the other person. Yawn.
There's also a lot of descriptions of clothes and overall just very cheesy descriptions. Like this: "His sapphire eyes reflected the brilliance of the sky"
………. Yikes. 
And a lot of unnecessary epithets. Such as referring to Celaena as "the assassin" all the time, especially when it's from her POV. We know that's what she is, thank you, we don't need to be reminded. I hate epithets with a fiery passion, it's even worse when I see them outside of fanfiction. Stop. 
Plus, Kale Chaol is a boring piece of pretty cardboard whose function in the plot is… nothing, except to be jealous of Dorian for getting with Celaena. Dorian isn't much better, he doesn't do anything either except fall in love with Celaena, but at least he developed a personality (Chaol didn't). If I have to pick a "team" then I pick Team Dorian. But I'd much rather be Team Nehemia, because that scene where she kissed Celaena's forehead and gave her a new name was really cute and it made me smile more than Celaena's scenes with Dorian. This relationship is a lot better developed as well. 
So in between all this sexual tension and jealousy, we get three pages here and there from the tournament. Sometimes just a few sentences that mention what kind of test they had. It's an afterthought. 
Still, this isn't what bothered me the most, though it did get on my nerves. Okay, scroll up and read the synopsis. Then read it again. What does it say? "Celaena must represent the prince in a to-the-death tournament". To the death. To the death.
Ehhhhh no. This fools you into thinking we're going to see some violent hunger games-like fighting where the champions have to kill each other, or tests so dangerous that only the best survive. The tests in this book include things like very dangerous archery, where they shoot at… targets. O m g I'm on the edge of my seat wondering who'll hit bull's eye!!! And then there's also the very scary drink-from-the-cup-you-think-is-the-least-poisonous test, but don't worry, if they drink from the wrong cup they get the antidote right away so it's totally safe! Even the Triwizard Tournament is more dangerous than this and it's not advertised as "to the death". 
To be fair, Celaena must either win the competition or go back to the death camp where she'll surely die, but there's nothing suspenseful about this as the reader knows she's going to win, because we're not idiots. 
Surprisingly enough, there's another background noise, namely something in the castle is killing off the champions one by one. Is this meant to be the "to the death" part? The synopsis doesn't even mention this and it's a pretty big part of the book, even bigger than the tournament, which seems to just be there to give all the champions a reason to be in the same place at the same time. So this part of the book is quite intriguing at times (though anti-climatic in the end). Champions are found bloody and mangled, but who or what killed them?  Unfortunately this isn't explored as deeply as I'd like either, like the tournament it's more like "oh by the way, another champion was murdered last night. It was gross. Moving on!"
I didn't absolutely hate this book though. It didn't bore me to tears while I read it, it did have a certain entertainment value here and there (though it wasn't very high). I will read Crown of Midnight. I've heard from reliable sources that it's a lot better. 
Spoilers: 
The ghost of Elena annoyed me, it was too convenient. Though I'm sure she'll have a function to the later books, I bet Celaena is related to her or something. Though if she is then wow, way to make things predictable. 
And stop naming all the bad guys Cain/Caine. The whodunit isn't really hard to guess when there's a guy there named Cain.
What do you think of Throne of Glass? Do you think the books get better from here? 
Thanks to Trang for organizing this read-along! 😀