It's Thursday and time for another Book Traveling Thursday. This weekly meme was created by Cátia @ The Girl Who Read Too Much and Danielle @ Danielle's Book Blog. Visit their Goodreads group to learn more about Book Traveling Thursday 🙂
The rules are to share covers related to the weekly theme where you include the original cover, the cover from your country, your favorite, and your least favorite. I've decided to go for a top 3 and bottom 3 arrangement, because that's more fun and I get to showcase more covers. 
---
This week's theme is "Crying is not always bad. Choose a book that made you ugly cry."
I love sad books, but I don't really cry while reading. But I'm choosing a book that tore my heart out and it's The Knife of Never Letting Go by Patrick Ness. If you've read it you know what part I'm talking about. Whyyy Patrick Ness, whyyy ;_;
ORIGINAL COVER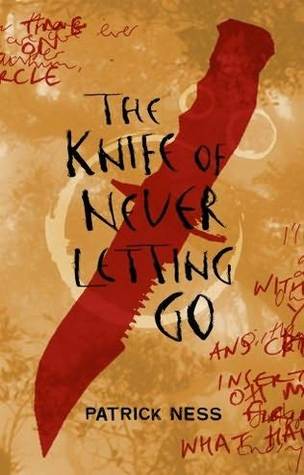 I'm pretty sure it's this one. I like it a lot, the scribbles symbolize the jumbled mess of the Noise, plus it makes it look creepy. 
COVER FROM NORWAY
N/A
Very few Patrick Ness books have been translated into Norwegian. I think only A Monster Calls has been translated. I consider this a crime against humanity. 
TOP 3 FAVORITE COVERS
Oh my god, that 2013 edition from the UK is so gorgeous I can hardly stand it. Where can I get this because I need it in my life. Definitely my number one favorite out of the bunch. The guy looks too old to be Todd but who cares when it looks this gorgeous.
And yes, you're not misreading anyhing, that's Russia. A Russian cover in the top 3, what's going on? The people who regularly do this meme have noticed that Russia tend to rank last a lot of the time, so this is a nice surprise. I love it, it's super cool looking. 
I love the Turkish one too, it's more in the creepy realm and that's suitable for this book. I love that both the Russian and the Turkish covers included the element of the Noise, symbolized with scribbles. 
BOTTOM 3 COVERS
No, no, and no. I like the silhouette of Todd and Manchee on the German one, but the face in the background is way too badly photoshopped and makes it look cheap as heck.
The Portuguese got the genre wrong. This looks like a coming-of-age contemporary. 
The Czech one tried but in the end it looks messy. And I'm pretty sure that's a wolf and not a dog, that's my main problem with it. And the scribbles aren't creepy, they look more like a school teacher's handwriting. 
What do you think of these covers? Which one's your favorite and least favorite?

Follow me on Twitter | Goodreads | Bloglovin' | Instagram |