Hello, everyone, this is my first WWW Wednesday post. Today's Top 5 Wednesday topic wasn't anything I felt like I could answer, so I'm doing this instead 😀
WWW Wednesday is a weekly meme hosted by Samantha @ Taking On a World of Words where you answer the following questions: 
What are you currently reading?


What did you recently finish reading?
What do you think you'll read next?
Currently reading
I just started reading Wonder by R.J. Palacio last night as part of the RYBSAT readathon. I'm only 6 pages in so it barely even counts as starting, but I got too tired last night to continue. I'll read some more after I post this. 
Recently finished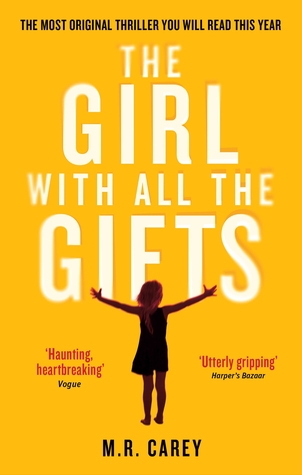 I finished The Girl With All the Gifts last night and I enjoyed it a lot. The final page was so great it almost gave me chills and it made me bump up my rating to 4.5 instead of 4 stars. I'll post a review of it either this week or after the readathon is finished. 
Reading next
As part of the readathon, I'm moving on to Room by Emma Donoghue after I finish Wonder. I'm excited to finally read it because it's been on my bookshelf since 2011. 
What are your three Ws?
Follow me on Twitter | Goodreads | Bloglovin' |