I just saw this tag on Jenny @ Jenny in Neverland's blog and I couldn't resist even though it doesn't have anything to do with books. I love Disney so much. So here we go. 
1.) Favorite Character
Emperor Kuzco! Boom babeh!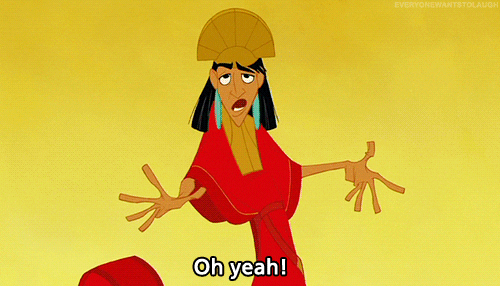 2.) Favorite Princess
Does Elsa count even though she's queen? If not then Merida. 
3.) Favorite Heroine
Non-princess favorite? Esmeralda. 
4.) Favorite Prince
Aladdin. 
5.) Favorite Hero
Quasimodo. Bless him. 
6.) Favorite Animal
Simba. And Kuzco when he was a llama.
7.) Favorite Sidekick
Mushu. And Genie. And Timon and Pumbaa. Have you ever noticed that all the sidekicks are male? Hm. 
8.) Favorite Villain
Judge Frollo! He's so disgusting, he gives me the most creeps out of all of them. He's legitimately frightening. But Scar is a close second. 
9.) Favorite Original Character (Minnie, Mickey, Goofy, etc)
Hmmm, I'm going to have to say Mickey. Or maybe Goofy. 
10.) Favorite Love Song
ALL OF THESE ARE SO HARD LMAO. Once again I can't choose. You'll Be In My Heart (Tarzan) and I Won't Say I'm In Love (Hercules).

11.) Favorite Song
I think we're just going to have to accept that I won't be able to pick just one for any of these.
Out There (The Hunchback of Notre Dame)
God Help the Outcast (The Hunchback of Notre Dame)
One of Us (The Lion King 2)
He Lives In You (The Lion King 2. Norwegian only)
Son of Man (Tarzan. Norwegian only because I love the singer's voice)
I'll Make A Man Out of You (Mulan)
I LOVE ALL THE SONGS, SOMEONE STOP ME

12.) Favorite Villain Song
LIKE FIRE, HELLFIRE, THIS FIRE IN MY SKINNN. THIS BURNING. DESIRE. IS TURNING MEEEE TOOOO SINNN.
I also really love the reprise of Mother Knows Best. And Be Prepared. And Zira's Lullaby (the Norwegian version, because it's slightly more brutal than the English. Shameless self-promotion of my youtube channel lmao). 
13.) Least Favorite Song
I love most of the songs but there are also many that I don't really listen to. I don't think I can pick a least favorite though. 
14.) Favorite Kiss
Probably Rapunzel and Flynn, because the way they did it is so adorable. Does Simba and Nala nuzzling count as a reunion make-out session kiss? I think so. So that one too. 
15.) The First Movie You Saw
There's no way I can know/remember this. 
16.) Favorite Classic
The Emperor's New Groove and The Hunchback of Notre Dame. My pre-renaissance favorites are The Fox and the Hound, and The Lady and the Tramp. 
17.) Song that always gets stuck in your head
Same as Jenny: Prince Ali, haha. 
18.) Favorite Pixar Film
Monsters, Inc. 
19.) Least Favorite Pixar Film
Cars. But I haven't seen Ratatouille (shame on me) so I can't be sure. But that movie seems hilarious so. 
20.) Favorite Sequel
The Little Mermaid 2 and The Lion King 2. I don't like any of the others.

21.) Overrated Movie
Hmm. Bambi is actually pretty boring, but it's so old that you gotta cut it some slack. And I did enjoy it as a kid. 
22.) Underrated Movie
The Emperor's New Groove!!!!

23.) Movie That Makes You Laugh
The Emperor's New Groove lmao. But only in Norwegian. My sister and I tried to watch the English dub just to see if it works and it doesn't. 
24.) Movie That Makes You Cry
Plenty of them gets me all ;_;
25.) The Saddest Scene From Your Favorite Movie
When they tie up Quasiomodo at the Feast of Fools. Ow my heart. 
26.) Saddest Death
Mufasa. 
27.) Favorite Quote
I don't know if it's my favorite, but it's the first one that popped into my head right now. "Oh yes, the past can hurt. But the way I see it, you can either run from it or learn from it." – Rafiki (The Lion King)
Oh, and this exchange from The Hunchback of Notre Dame always gives me chills: 
Esmeralda: You mistreat this poor boy the same way you mistreat my people. You speak of justice yet you are cruel to those most in need of your help!
Frollo: Silence!
Esmeralda: Justice!
28.) Favorite Theme Park
I've only been to Disneyland Paris, soooo. 
29.) Favorite Theme Attraction
The Buzz Lightyear one was fun. But basically everything we did in Disneyland Paris was my favorite thing ever. 
30.) Favorite Theme Park Show
Because I've only been there once I can't say. We saw Tarzan and it was fantastic. 
What have we learned? That I can never pick just one favorite thing. What's your favorite Disney movie??
I tag everyone who loves Disney! 
Follow me on Twitter | Goodreads | Bloglovin' |