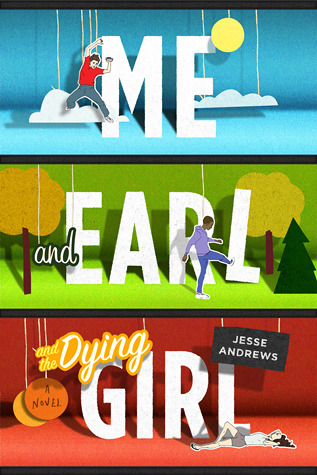 Me and Earl and the Dying Girl by Jesse Andrews
Published by Amulet Books in 2012
Pages: 295
Genres: Young Adult, Contemporary
Buy: Amazon | Book Depository
Rating:

.
.
.
.
This book is Jesse Andrew's debut novel, and I admit I've mostly only been interested in it because of the title and the cover. I'm cheap like that. 
A quick summary: The book is epistolary in the sense that the main character, Greg, is writing this book about his experiences with "the dying girl", Rachel. Greg is kind of an asshole and he prides himself on the fact that he has no friends (except Earl). Greg and Earl make movies in their spare time, and most of the time the movies suck. One day, Greg's mom tells him that Rachel has been diagnosed with caner and Greg should go spend some time with her because you and Rachel are friends, right? Didn't you two use to date? Long story short: Greg is forced by his mom to spend time with a girl with cancer, who also happens to be the only one who likes their shitty movies. Suddenly Greg and Earl feel they have to make a movie for Rachel before she dies.  
Again, Greg is kind of an asshole, but he's supposed to be. And he knows he is. He isn't very likable, but once again, I doubt he's intended to be likable. That's a turn-off for a lot of people, but I don't mind unlikable main characters. Earl is more likable though, you have to cheer a little towards the end when he serves some real truth to Greg about his behavior towards Rachel. 
This book is a funny book. Yes, a comedic cancer book. Of course that depends on your type of humor, but I found myself chuckling here and there, and I had one proper laugh at the line "Possibly racist silence" after Rachel meets Earl. 
This book is nothing like, let's say, The Fault In Our Stars, so you shouldn't come into this one thinking you'll get something like that. This book doesn't contain romance and it doesn't try to make grand declarations about life and death and love. No, this book says it like it is right from the beginning in Greg's author's notes. Excuse me for the long quote, but I think it's very important to understand this book. 
"You may have already figured out that it's about a girl who had cancer. So there's a chance you're thinking, 'Awesome! This is going to be a wise and insightful story about love and death and growing up. It's probably going to make me cry literally the entire time. I am so fired up right now.' If that is an accurate representation of your thoughts, you should probably try to smush this book into a garbage disposal and then run away. Because here's the thing: I learned absolutely nothing from Rachel's leukemia.

(…) This book contains precisely zero Important Life Lessons, or Little-Known Facts About Love, or sappy tear-jerking Moments When We Knew We Had Left Our Childhood Behind for Good, or whatever. And, unlike most books in which a girl gets cancer, there are definitely no sugary paradoxical single-sentence-paragraphs that you're supposed to think are deep because they're in italics. Do you know what I'm talking about? I'm talking about sentences like this:

The cancer had taken her eyeballs, yet she saw the world with more clarity than ever before."
I really loved The Fault In Our Stars though, but then again I haven't read any other cancer books. I can see how a lot of people could be tired of the "cancer romances". Even though I haven't read many "cancer romances", I appreciated this new twist from Andrews and I really wish I liked it more than I did because I feel like it's more realistic than books like TFIOS. But oh well, what can you do. 
I can only say that while it was funny at times, I did find it quite boring and often not that engaging. I wish more things happened. It just didn't reach me, I guess, but that doesn't mean it won't reach you! I have faith that the movie might still be good though, you can see the trailer here if you haven't already seen the movie. 
Have you read this book? What did you think? How does it compare to the movie?