It's Thursday and time for another Book Traveling Thursday. This weekly meme was created by Cátia @ The Girl Who Read Too Much and Danielle @ Danielle's Book Blog. Visit their Goodreads group to learn more about Book Traveling Thursday 🙂
The rules are to share covers related to the weekly theme where you include the original cover, the cover from your country, your favorite, and your least favorite.
---
.
.
This week's theme is "Tomorrow is World Smile Day! Choose a book that made you smile". For this I'll pick a book I normally don't talk that much about, which is Warm Bodies (2010) by Isaac Marion. I read it a couple years ago, but I remember it being quite funny and really sweet and touching at times. Basically it's a zombie Romeo and Juliet. Apparently there's a sequel coming, that's very exciting. 
ORIGINAL COVER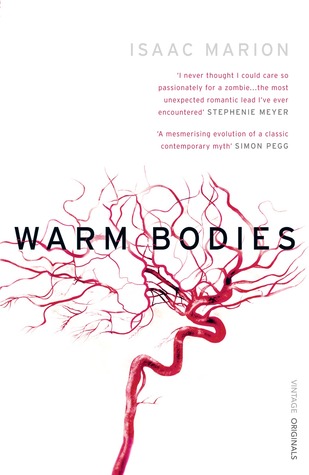 I love this one. It's clean, simple, and just very aesthetically pleasing with the white and the red. I own this version and it looks great. 
COVER FROM NORWAY
I can't find this in Norwegian anywhere, could it be it hasn't even been translated? I find that very very strange, most books that are popular enough to become movies will be translated into Norwegian. Most often before that if the book is already popular. Weird. Someone correct me if I'm wrong, maybe I've just been looking in the wrong places. 
It probably would have used one of the newer movie covers if there had been one. 
Favorite COVER(S)
This is the Vietnamese cover and I love it. It's really really pretty, I love the color scheme and the title font and everything just looks nice and well put together. It's romantic but at the same time it's got a gritty, sinister feel to it. 
LEAST FAVORITE COVER
.
.
.
.
.
.
.
.
The Dutch (1) and Indonesian (2) are my least favorites of the ones I found. Plus they both have pretty bad titles. The first one is definitely the worst because of the awful font choice. The dude's sexy but that's about it. He looks more like a pirate than a zombie. The Indonesian cover is just eh, there's just too much going on. 
Bonus:

This is the German cover, and I wanted to add it to talk about the title because LOL. I'm not a fan of the drawing style either. R looks pretty good though, it's mostly Julie who looks off. Anyway, I'm pretty sure the title translates to "My pale/fair friend" which is hilarious.
.
.
.
.
---
What do you think? 🙂 
See you next Thursday with more goodies and more photoshop failures!