It's Thursday and time for another Book Traveling Thursday. This weekly meme was created by Cátia @ The Girl Who Read Too Much and Danielle @ Danielle's Book Blog. Visit their Goodreads group to learn more about Book Traveling Thursday 🙂
The rules are to share covers related to the weekly theme where you include the original cover, the cover from your country, your favorite, and your least favorite.
---
I'm a little bit late this week because it's been Friday for two hours where I live BUT IT'S STILL THURSDAY SOMEWHERE. Also this post took me two hours to make because there are so many covers omg. 
This week's theme is big books (500+ pages). I haven't read any other book traveling Thursday posts yet but how many of you picked a Harry Potter book? Probably like half. But hey, Harry Potter covers are so interesting so what's one more? 
So I picked the biggest of them all: Harry Potter and the Order of the Phoenix (2003). Nearly 800 pages of greatness. 
ORIGINAL COVER
The good old classic Bloomsbury Children's edition. I don't have the fifth book in this type of cover but I have the first two. My covers are a bit mix and match, I must admit. These are cute and give most people major nostalgia, so A+. 
COVER FROM NORWAY
.
.
.
.
.
.
.
.
Norway picked the safe route and went with pre-made styles. The blue one is the first edition that got printed here (naturally enough), and I believe this is the first American design, so same art, different language. I own the third and fifth book with this design, they're pretty nice, but I can't be sure if that's my nostalgia speaking. The only thing that's different is that they've used the movie-style font, pfff.
The second one is newer and not unique to Norway either, the design is the new American one. It's gorgeous though, I love it. I don't know if we've got more covers than these
---
FAVORITE COVER
.
.
.
.
.
.
.
…
.
.
.
…
.
Now for the hard part because Harry Potter has got so so many gorgeous covers. I have a lot of love for the Bloomsbury Adult editions (1) though, because I actually own all of them with these covers. I had to, I just had to, they're so pretty. So shiny.
The new anniversary editions from Bloomsbury (2) are gorgeous too. The spines are just guh. Beautiful, A+ would buy the entire collection. 
I've never seen the third one before but it's another Bloomsbury adult cover and I love it, that looks awesome, sign me up for yet another box set. Seems like these were printed this summer, so no wonder I haven't seen them before. 
The fourth is the new adult German edition, and on it's own it might not look like much but put the entire series together and they look amazing. I'm obsessed with the adult Russian editions too, they remind me of the adult Bloomsbury ones and they also look really nice all together. 
LEAST FAVORITE COVER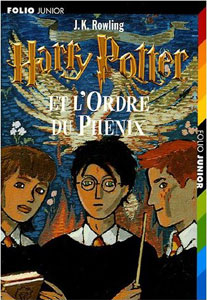 .
.
.
.
.
.
Harry Potter has a lot of good covers and a lot of bad covers but I'll limit myself down to three. The French (1) looks like it was drawn by a 10-year-old in Paint. The Dutch (2) was also done by a 10-year-old. Yikes. The Spanish one (3) I mostly just hate because of the font, it's hideous and amateur looking. 
BONUS: 
THE NOSES! I am cackling. This is the Finnish cover and the more I look at it the more I love it, mostly because it's hilarious. The noses, Harry's grumpy face, whoever it is floating in the background (Snape??), and if that creature is supposed to be Umbridge then this is the best cover ever. Not quite sure who the other black-haired kid is supposed to be… James? Must be, he's got glasses too. And those are definitely not Gryffindor colors, LOL.
What do you think? 🙂