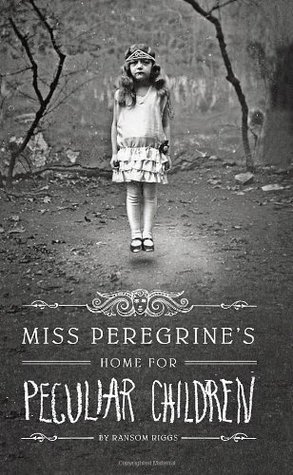 MISS PEREGRINE'S HOME FOR PECULIAR CHILDREN by Ransom Riggs
Series: Miss Peregrine's Peculiar Children #1
Published by: Quirk Books
on January 1st 2011
Pages: 352
Genres: Young Adult, Horror, Fantasy
Buy: Amazon | Bookdepository
Rating:

.
.
SUMMARY
Sixteen year old Jacob has throughout his life been told fantastical stories about the house where his grandfather grew up, a house on a remote island in Wales filled with children with special powers. One kid is invisible, another has bees coming out of his mouth, another (as seen on the cover) can levitate, etc. Jacob's parents and his psychologist try to convince him his grandfather's tales are just make-belief, but Jacob needs to know. He leaves with his father to go to Wales to uncover the mystery. Does the house exist? Did the children? Who is Miss Peregrine?
I'm going to start off this review saying that this book really disappointed me. It didn't do what it promised. I'm very very reluctantly placing it in the "horror" genre because it read more like a much less compelling Gone by Michael Grant with a few pictures thrown in there because they look cool. 
I bought this book back in 2012 because of the cover and the title, because both things promised me horror with creepy children. Creepy children are the best. They aren't creepy. At all. That wouldn't even have been a problem if the book hadn't lied to me and pretended they were. Like I said I bought this in 2012 but I didn't read it until this summer because by then I'd heard some things about how not scary it is. I was still disappointed even with that in mind because the whole format of the book just didn't work. Don't judge a book by its cover, kids.
The book consists of a mix of both text and pictures, like the one you see on the cover. The pictures are supposed to accompany the story, but I don't think they were very seamlessly woven in at all. Sometimes the introduction of a picture felt forced. I could tell, even without consulting google first, that the author had intended this to just be a collection of some awesome pictures he'd collected but then was told he should write a story around them instead. I could tell. I wasn't convinced at all.
The characters were all quite flat. I can't really say much about them because they weren't anything special. They all seemed to talk in the same voice too no matter if they were 5 of 18 years old.
A spine-tingling fantasy illustrated with haunting vintage photography,Miss Peregrine's Home for Peculiar Children will delight adults, teens, and anyone who relishes an adventure in the shadows.
– Goodreads
Spine-tingling? No. No no nooo. Haunting vintage photographs? Sure. Delight adults and teens? Some maybe, but the entire time I read this I just felt like it comes across a lot younger than young adult. I'd say I would have enjoyed it when I was around 11-12 years old and read a lot of Goosebumps.
I quite liked the story up until a bit past the point where Jacob got to the house on the island. Up until then the atmosphere was quite eerie and mysterious (I also liked the gloomy Wales setting), but that all disappeared pretty quickly and it became a bit of a chore to finish. 
The only reason I want to read Hollow City is to figure out what happened to one of the characters and if she will be all right. Though I don't really feel like trudging through the entire book just for that, so I don't know. I'll probably pass.
All in all this book has a great concept that unfortunately didn't work. The pictures are great, some are even really creepy, but it all falls flat when you compare it to the actual story written around them.
I'm looking forward to the movie adaptation though (yasss Tim Burton), maybe it'll be better.
I'm so sad because I really wanted this book to be good. Have you read it, what did you think? I know I'm not alone in having this opinion but a lot of people rave about it too. Do you know any books about actual spooky children?