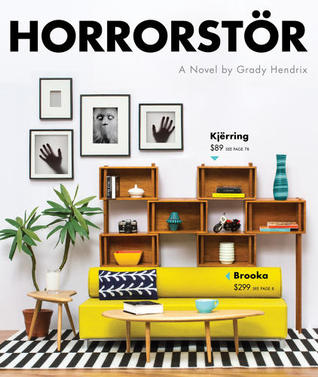 Horrorstör by Grady Hendrix
Published by: Quirk Books
on September 23rd 2014
Pages: 248
Genres: Adult, Horror, Paranormal
Buy: Amazon | Bookdepository
Rating:

No, that is not an IKEA catalog. OR IS IT? 
Horrorstör is a horror novel that takes place in a knock-off IKEA called Orsk. Every morning, the workers at Orsk notice that someone has been in the store, breaking things, but nothing shows up on the security cameras. Three employees volunteer to stay the night and figure out what's going on. Naturally that was a bad idea. 
A traditional haunted house story in a thoroughly contemporary setting, Horrorstör comes packaged in the form of a glossy mail order catalog, complete with product illustrations, a home delivery order form, and a map of Orsk's labyrinthine showroom.
– Goodreads
I read this one in early June so it's not 100% fresh in my mind but I do have some things to say about it.
This is a fun one. It's a very quick read and every new chapter starts with an illustration of a piece of Orsk furniture. The illustrations get gradually more and more sinister as the book progresses, starting with regular innocent chairs and ending up with torture devices. 
I enjoyed the setting a lot, there's just something inherently creepy about a store or a mall after closing time. That's what made me buy this book, it's an awesome concept. A horror story set in IKEA. Hell yes. Just that large, empty space… Or is it empty? 
I wanted it to be even scarier than what it was though. I wanted MORE COWBELL GHOSTS. That said, Horrorstör is very much creepy and unsettling, and maybe even scary to some people depending on what scares you and what you're used to. One scene in particular really freaked me out, it had to do with a woman inside a wall. Shudder. I definitely didn't see what happened coming, there was one major WTF moment (or maybe several WTF moments) that was just so bizarre I don't even know what to say about it. It's just gotta be experienced. 
If you speak a Scandinavian language this book will be very amusing to you at times because the furniture will have names such as "Kjërring" (as seen on the cover), "Asle", and "Drittsëkk". I died. (The words mean bitch/old lady, ass, and bastard/dirtbag respectively). This should also tell you that this book is not just a horror story, it's meant to be humorous too, and it did bring a few chuckles out of me. If you've ever worked retail I think you'll find it amusing too.